About Us

R L International, is an eminent supplier and exporter which has made a huge customer base by supplying fresh Yellow Papaya, Dry Coconut, Fresh Pomegranate, Fresh Lemon, Bitter Gourd, Coccinia Grandis, etc. Our product range is procured from the reliable vendors of the market who have excellent past records. Our company has given a tough competition to other contenders of the industry and emerged as the most preferred store by the customers. The demand for our products is increasing day by day because of their economical rates, freshness, and quality assurance. Further, the material used by us in the packaging of our offered range is obtained from entrusted sellers of the industry. Our professionals make use of different packets to pack different products depending on their texture which keeps them fresh and protected from dust and dirt. We are committed to offering our patrons the best for which we are conducting every business operation with sincerity.

Why Choose Us?

It is the quality of our products which has made us the best destination for the customers to buy fresh vegetables and fruits. Apart from the quality, below mentioned are some other aspects which have enabled us make a huge and satisfied customer base:

The price associated with our offerings are economical and fit the budget of the customer.
We ensure delivery of customers orders on promised time at their doorstep.
Our trading policies are honest and are beneficial not only for our company but clients as well.
Our business associates are reliable and supply us quality fresh products that are free from harmful chemicals and pesticides.

Our Vendor Base

We are backed by a strong vendor base which supports and enables us to meet the urgent requirements of the patrons. The status we have achieved in the market is based on our delivery of quality products which has been possible because of our vendors. They are able to provide us products such as Green Chilly, Lady finger, Fresh Pomegranate, Fresh Lemon, Tomato, etc. on assured time which are cultivated with great care. Our vendors never delay the delivery of consignments which ultimately lets us make further deliveries on promised time. We are grateful to our associates for their support which has in-turn helped us in winning the hearts of numerous clients.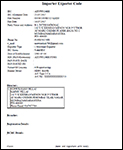 Read More